Our Priorities When Selling Cattle
We breed these gorgeous Galloway miniature cattle for the sheer pleasure of it. We pride ourselves on being caring breeders, and we insist on nothing but the best for our cattle. Our priority, when our cattle do leave our property, is to ensure they will be well looked after. We ensure that their gentle and compliant nature will be treated with respect. We do not part with our cattle until we are 100% certain they are going to good people in suitable locations. We are firm believers in a 'Fair Go For Farm Animals'.
Miniature White Galloway Cattle For Sale in Braidwood NSW
1. SOLD OUT: We will not have any cattle for sale for quite a while now. Not until late 2018. But, when they do arrive they will be drop dead gorgeous! Yes, we are unapologetically biased. But, one look and you will see why. This little fellow has gone (with his paddock pal) to Young in NSW.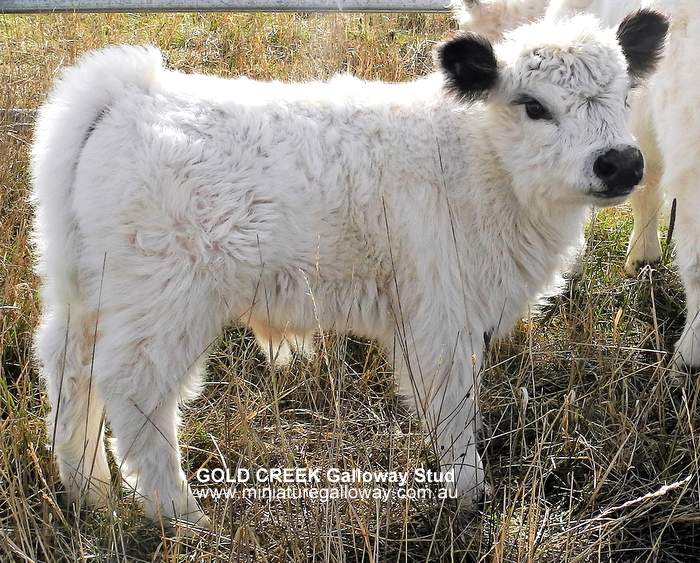 We always look forward to all the news that comes in from our new owners, when their new herd members settle in and go to work for them.
Stud Owners: Suzanne Baker & Pamela Robinson. We will gladly oblige any buyer requesting the DNA testing of any GOLD CREEK cattle for sale. This email address is being protected from spambots. You need JavaScript enabled to view it.
Sale Prices
Our prices are commensurate with the quality of our cattle. If you are looking for wary little grass eaters, at bargain basement prices, you have probably come to the wrong place.
We often subsidise the price of our highly trained Animal-Assisted Therapy cattle so that they can be placed where they are needed the most.
When cattle are offered for sale, they are very 'user-friendly'. If and when they are sold, we try to ensure they will stay that way. Therefore, we do not sell our cattle unless we are 100% confident they will be well looked after. Transportation from our property to yours must be well planned.
Please note: Interest is always strong, and although we can give you plenty of time and attention during the sales process, it would be very unusual for us to be talking to only one buyer at any one time. We are always happier when these things do not end in tears. Our cattle are only withdrawn from sale when a deposit is paid (20% of the total).
We sell cattle to people looking for:
A. Show ring performers.
B. Cows and bulls for breeding purposes.
C. Gentle paddock pets for the joy of owning such beautiful animals.
D. Paddock pals for small horses, alpacas, miniature pigs, sheep and goats.
E. Lifestyle property management - peaceful lawn mowers for the small acreage owner.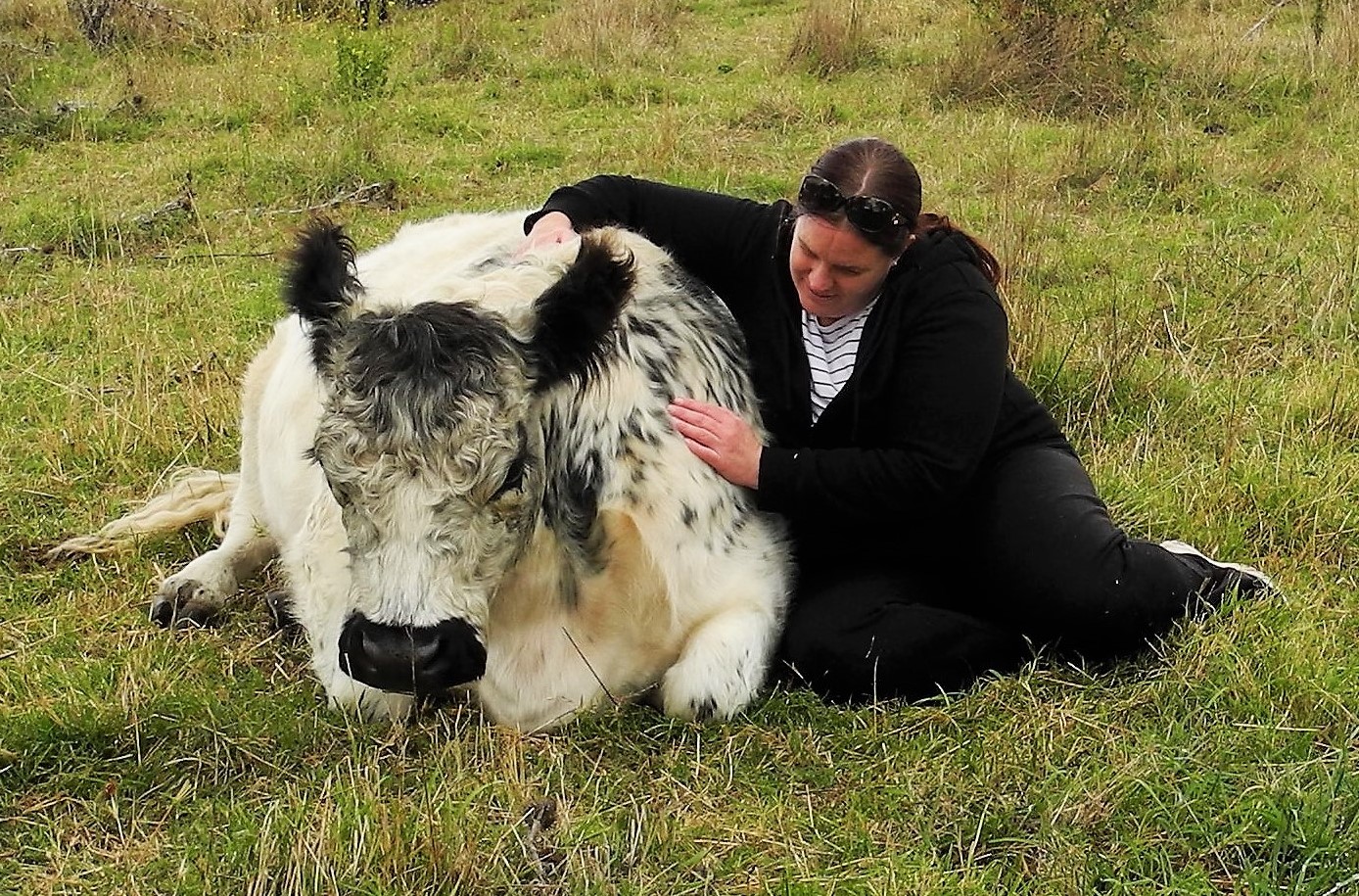 Buyers are welcome to visit. All visitors are invited into the paddocks to handle our small GOLD CREEK Galloway cattle. Visits are by appointment only.
Please Note: There are Miniature Galloway Breeders in most Australian States. Where possible, it is better for you, your finances and the cattle if you can purchase your Miniature White Galloway cattle local to you.
GOLD CREEK Galloway Stud - located three minutes from Braidwood in Southern NSW Australia.
Stud Owners: Suzanne Baker & Pamela Robinson