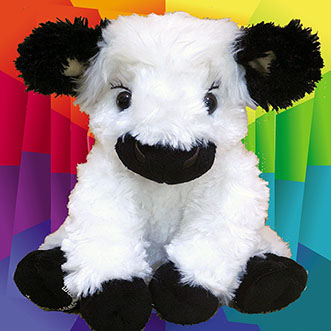 If you would love a gorgeous miniature calf or cow but owning one is out of the question - what do you do? You adopt (sponsor) a GOLD CREEK Galloway cow or calf for just $50 (one off payment).
For an extra $30.00 we will send you your very own limited edition, custom plush Banjo or Huggie mascot.
Farm animal shelters... Profits from our calf adoption program, including mascot sales, will help support farm animal shelters, sanctuaries and rescue organisations in Australia.
We now have a fun new website for kids and all the people who adopt our calves. The new website www.cuddlecow.com is a bit of fun for people young and old who want to learn more about these wonderful cows and their calves.
BANJO: One of our new GOLD CREEK mascots.
Adopting gorgeous Galloway calves is a great experience for everyone involved - Mum, Dad and the kids.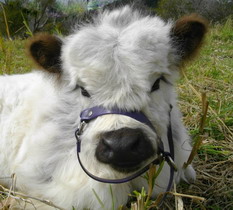 Children love to learn all the 'ins and outs' of the calves as they grow up. Kids can even adopt a cow or a bull if they like - they live pretty interesting lives too.
The bonus of a Huggie or a Banjo mascot of their very own now makes adoptions irresistible - yes it is definitely a deliberate ploy to get the kids seriously interested!
Adults are finding adopting a calf to be a very positive experience too. You don't get to actually take a real calf home, but you do get to find out everything about the real calves as they grow up.
Our calves have been adopted as a gift to celebrate birthdays, anniversaries and as Christmas presents. The person who has adopted the calf is formally invited to visit the calves at the farm and get their boots dirty if they like. If the adoption was a gift then the gift giver is also welcome - the calves love visitors.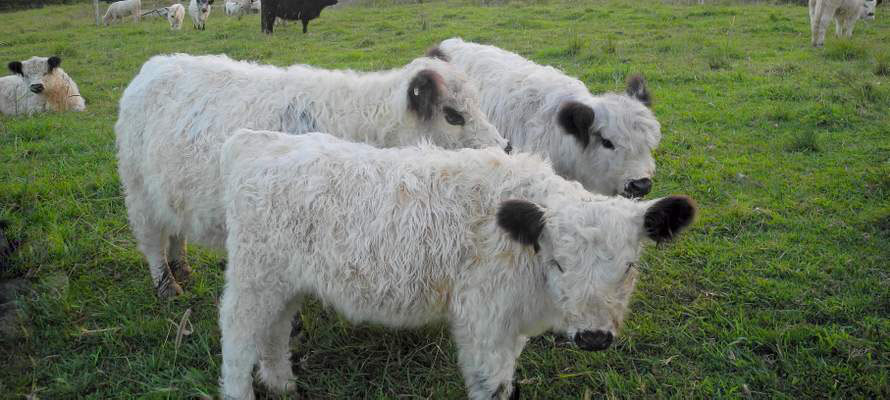 Huggie in the middle was adopted as a calf, and now that is her calf Kismet in front of her. Snuggle is at the back.
Our cattle want for nothing. Not all animals are so lucky. For all sorts of reasons, there are farm animals in Australia finding themselves in need of some help. Our calf adoption program, including mascot sales, now help support farm animal shelters, sanctuaries and farm animal rescue organisations in Australia.
We love interacting with the wonderful people who adopt our calves and the people who give these adoptions as gifts. It provides us with an opportunity to meet great people, to share the joy of owning these gorgeous cattle and to educate more people about our amazing Miniature White Galloway cattle (and cattle in general).
People with adopted calves love seeing the photos and stories of all the happenings in the paddocks. One girl adopted a calf and now that little one has just had a calf of her own so that can be quite an adventure for everyone.
You can adopt a calf for just $50 (One off payment). All adopters get an adoption certificate, visiting rights, and access to all the cow and calf information online at www.cuddlecows.com . Or for everything you need to get you started. Adopters can also purchase a beautiful Huggie or Banjo plush mascot for an extra $20.00.
Adopt a Calf or to Purchase a Mascot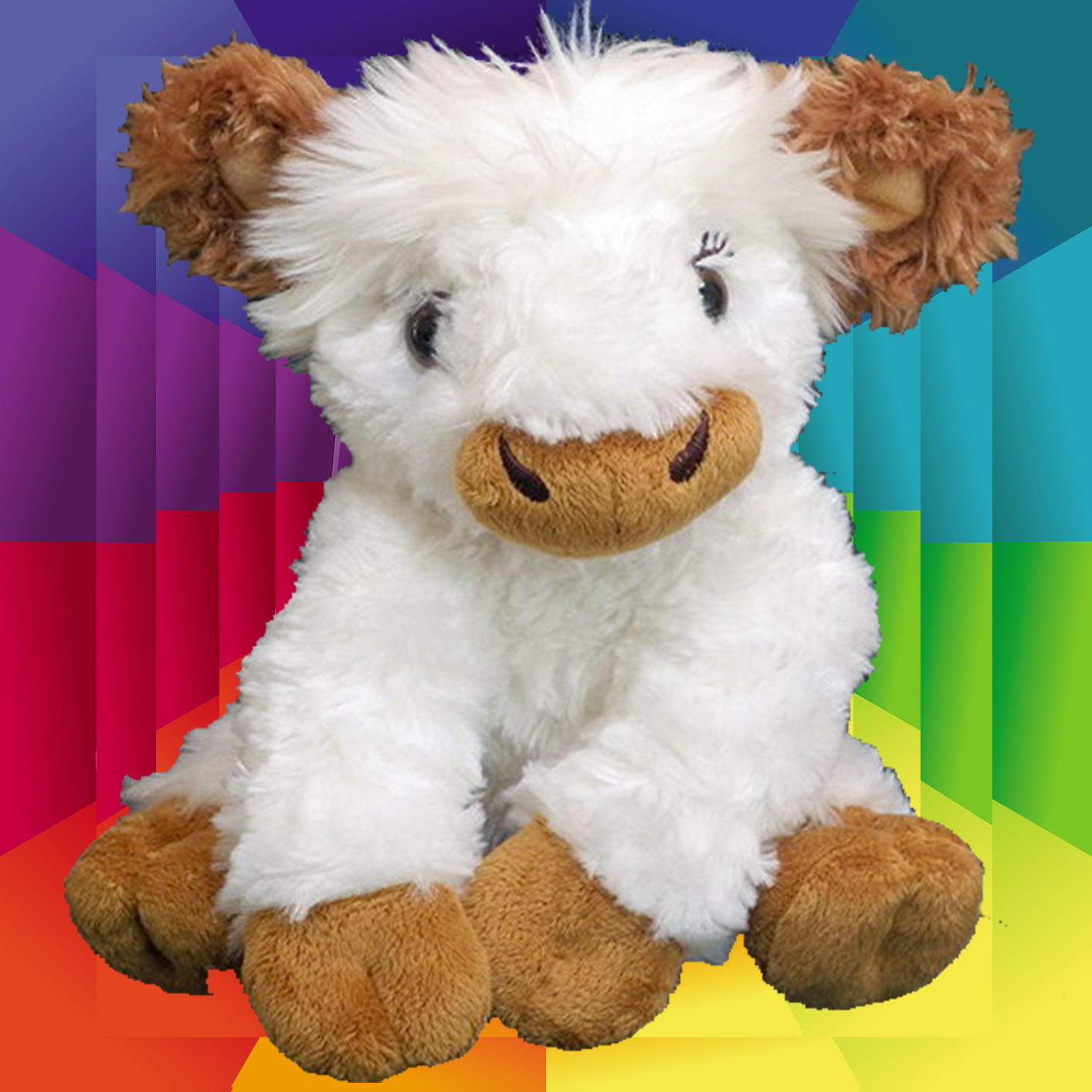 If adopting a gorgeous Galloway calf is something you think you might like to do for someone or yourself, then email us for details. If you would simply just like to get your hands on one of our beautiful little mascots, I am sure we can arrange that too.
All the people who adopt calves also get access to all of our AAT training videos like the one below. Calf adopters also get to feel good about the other farm animals in shelters and sanctuaries that they are helping to support.
HUGGIE: One of our new limited edition, custom plush GOLD CREEK mascots.