Stud Owners: Suzanne Baker & Pamela Robinson. These are our answers to your frequently asked questions, (please bear in mind we are not experts).
Question 1: How much does a full blood or purebred Miniature White Galloway cost?
Answer 1: All breeders must decide for themselves at what price they are willing to sell their miniature cattle. There is no set price for stud cattle and no price setting authority.
We cannot tell you what another breeder should or shouldn't charge you for their cattle, (so please don't ask).
Miniature cattle are more expensive than standard size cattle in most instances. Miniature White Galloways are rare, generally difficult to find for sale and therefore, can be costly to purchase. Different breeders pride themselves on different things and therefore, breed their cattle for different purposes - this all impacts on price.
Well trained, docile cattle usually cost you more than untrained, wary little grass eaters. Generally speaking, very quiet full blood and purebred Miniature White Galloway cows and heifers cost around the two thousand eight hundred dollar mark ($2800). Most are over and some a little under - depending on breeding, age, etc. Expect to pay more, for cows in calf and cows with calves at foot (and more again for cows in calf with a calf at foot.)
White steers cost less than breeding cattle. Steers are sold in pairs as paddock pets. (Usually over $900 each and under $1200)
We always sell pets in pairs. Cattle are herd animals. Your pets will be on their own in the paddocks more hours of the day than you will be with them - they need a friend.
Price is always dependent on the age, breed qualities, colour, breeding performance (proven breeders more expensive) and the show performance of cattle being sold, so there will always be variations.
The bottom line on prices: Unless you are talking to a breeder about a particular animal, in a particular set of circumstances, it is hard to say what price may be agreed upon by the parties involved. It is a matter between you and the breeder. And as with most things in life, you get what you pay for... Except in the occasional instance where you are very lucky (get really good cattle for very little money) or extremely unlucky (you pay too much for poor quality cattle).
Question 2: Can you explain the difference between full blood, purebred and crossbred (graded) Miniature Galloway cattle?
Answer 2: Full blood Galloway cattle have only registered full blood Galloway cattle in their breeding history and absolutely nothing else. If the paperwork is not all in order (five generations of registration papers), then cattle cannot be registered as full blood.
Purebred cattle have a breed other than Galloway, at least, five generations back in their breeding history (on at least one side of the breeding - sire or dam). Both full blood and pure breed cattle that are registered can be taken into the show ring and compete on equal footing.
Graded Galloway cattle have a breed other than Galloway less than five generations back in their breeding history (on at least one side of the breeding - sire or dam). Graded cattle are 'listed' as opposed to being registered. They can't be taken into the show ring.
Choosing whether or not to cross breed or grade up with Galloway cattle is a personal choice for all individual breeders. Grading up and cross breeding with Galloway cattle is legitimate. Breeding records are processed through the Australian Galloway Association - these records are open to the general public.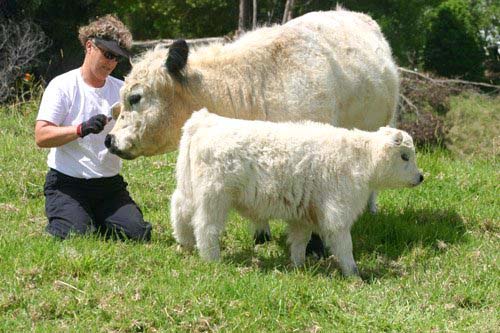 Full blood cow Eth with her graded bull calf GOLD CREEK Dougal. Dougal is a favourite.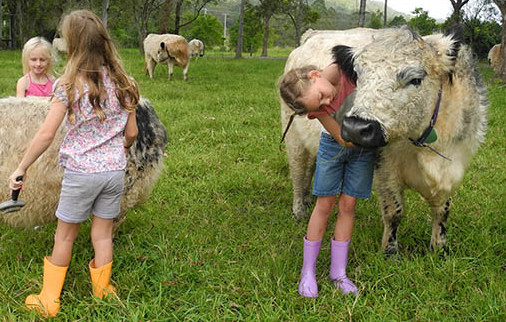 Full blood cow is enjoying a brush. The young visitors were also enjoying the fun in the paddock.
Question 4: Do you lease bulls or sell semen straws?
Answer 4: No. We have found sourcing unrelated bulls for our herd a challenging experience in itself.
Question 5: Are your cattle suitable for people who have no experience with cattle - we've never owned livestock before?
Answer 5: Yes - Our Galloway cattle are specifically bred and trained to make it easy for first-time livestock owners to enjoy owning them. If you are willing to learn, not afraid to ask questions, and you are not afraid to ask for help if the need arises, then you should be quite capable of looking after livestock.
If you are a first timer, look for miniature cattle that you can go up to in the paddock. This visitor is saying "Hello" for the first time to one of our 15-month-old heifers. Grade heifer. Winter 2012.
When you purchase our cattle, we are only ever an email or a phone call away. We want to ensure that the cattle are well looked after and that you are thoroughly enjoying owning them.
Question 6: How big are Miniature Galloway cattle?
Answer 6: To be eligible to be shown as a Miniature Galloway females currently can mature at no more than 120 cm and males at a maximum of 125 cm.
At 12 months Miniature Galloway females must not be over 107.5 cm and 112.5 cm for males. The registration requirements can differ depending on where you register them.
This email address is being protected from spambots. You need JavaScript enabled to view it.